If you are interested in having rounded corners in bspwm like the scrot below: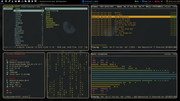 I have patched the bspwm source code, and have made a package available on my github.
Installation instructions:
git clone
https://github.com/deadsidestar/bspwm-patched-pkgbuild
Then do :
cd into bspwm-patched-pkgbuild (where you just git cloned it to)
sudo pacman -U bspwm-patched-0.9.5-1-x86_64.pkg.tar.xz
Pacman will then tell you that bspwm is in conflict.
You will the question if you would you like to remove.
Say yes.
Go into your bspwm config in .config/bspwm/bspwmrc and uncomment line 9
(bspc config border_radius)
save & restart bspwm.
You should have rounded corners now